Recoil "Prey/Allelujah" CD Single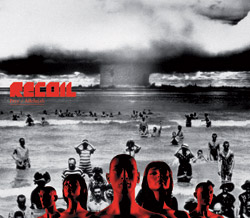 RECOIL
'Prey'/'Allelujah' - Enhanced CD release
Alan Wilder is pleased to announce, due to popular demand, a limited edition CD release of
'Prey'/'Allelujah'
on
25th February 2008
.
This enhanced CD package includes 'Prey' mixes, the reduction mix of 'Allelujah' plus a never-before- seen
film
for 'Allelujah', directed by Dmitry Semenov. It will also be accompanied by an exclusive downloadable
booklet
featuring video stills, 'subHuman' art and commentary from Alan Wilder, Hepzibah Sessa and Dmitry Semenov.
The CD is being issued, with the support of
Mute
, through Russian label
Gala Records
in conjunction with
www.depeche-mode.ru
and is exclusively available to order only from this page.
We highly recommend that you get your orders in quickly because only a limited number of these CDs are being produced.
There is a
competition
, available to enter when ordering the disc. Prizes will include 5 exclusive signed printed copies of the booklet, vinyl copies of 'SubHuman', signed press shots and some other items.
FULL TRACK-LISTING
CDMute372
1 / Prey / Radio edit
2 / Prey / Album version
3 / Allelujah / Reduction
Film / Allelujah
Taken from 2007's
'subHuman'
album released by
Mute
, 'Prey' features the evocative vocal style and guitar talents of bluesman
Joe Richardson
, while 'Allelujah' introduces
Carla Trevaskis
, whose unusual atmospheric voice simultaneously contrasts and compliments Richardson.
Following on from a highly successful promotional trip to Moscow in December 2007, this release marks a unique collaboration between artist, fan website and record company. It has come about as a direct result of fan pressure - their demands having been acknowledged and responded to by the record industry. We believe it represents an innovative approach towards CD marketing and distribution in the future, given the current complexities of record buying trends and an industry which, frankly, is in crisis.
Recoil would like to thank Gala Records for their forward thinking, Konstantin Zavodnik for his initiative and Olga Golovan & Oleg Gorbachev for their work on the booklet.
A mention must also go to the depmod.com team who added weight to the entire cause with their 'We Pray for 'Prey'' campaign launched last June, specifically asking for the CD release.
For further information:
www.galarec.ru
|
www.depeche-mode.ru
|
www.recoil.co.uk
|
www.mute.com
|
www.myspace.com/recoil
---
Please note, even though this limited CD is technically a Russia-only release, we have decided to accept all international orders. As such, demand is expected to be high so, to guarantee your purchase, we must insist that FULL payment is made at the time of your order.
In turn, we guarantee your order will be dispatched to you as soon as humanly possible after the release date (February 25th). Please be patient with us - we must stress that this is not a retail music store and we do not have an army of staff to pack and dispatch. Our intentions are 100% honourable however and we will do everything in our power to move the process along as fast as we can.
If you would like to place your order, please fill out the form below (you'll be able to check entered information later).
After we receive your payment, you will receive an e-mail showing a unique link to a special page where you will be able to download the exclusive 14-page booklet (in a choice of 5 languages). This will also allow you to take part in the Recoil competition and earn the chance to win some very desirable prizes.
As soon as we dispatch your order (most likely in March) you will receive a further e-mail to inform you that it's on its way!
If you have any questions, please do not hesitate to write to us at
recoil@depeche-mode.ru
---
NOTE: We now accept Credit Cards and PayPal (through our authorized retailer CCNow.com)!

If you're a depmod.com member, please put "(depmod.com)" somewhere in "Address Line 2".

Also, please clean up your browser's cache before you proceed.

---
CDMute372

1. Prey - Radio edit

2. Prey - Album version

3. Allelujah - Reduction

4. Film - Allelujah

Price: 10€ ($15).

We sell through our

authorized retailer

CCNow.com